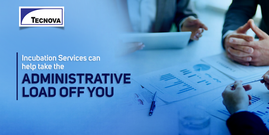 If you are a foreign organization which is unfamiliar with India, then business incubation is a great place to start. The challenges that outside businesses face when they arrive in India go beyond differences in culture. India is huge in terms of its diverse aggregation of cultures and consumer preferences, lengthy bureaucratic procedures, permits, licenses, approvals and tax compliance. That is why global entrepreneurs may often feel overwhelmed with the prospect of entering the Indian market. To successfully navigate through this maze, you need a reliable guide, a friend, or a mentor. That is where business incubation services come in.
What is Business Incubation?
Some global brands are hesitant to enter India because it may require a significant investment and the risk of not meeting profit goals in an alien environment may seem daunting. What Tecnova's business incubation services do for this client is help it launch its product market in India with minimum investment and virtually no administrative responsibilities.
Benefits of Incubation Services: Low Investment, Rapid Returns
Tecnova's incubation support is a business development platform designed for quick realization of turnover. The chief advantage of this business model is the low capital threshold in entry. Your liabilities as a foreign entity are minimized and there are enough protections in place for you to exit the venture if planned goals are not met.
You can expect quick returns with this plug and play business model. On the average, Tecnova observes growth in the range of 5-7%. Global brands can even use this platform to test a beta product before its full-fledged India launch.
Minimum Administrative Requirements
Tecnova's R.I.S.E. program (Recruit, Incubate, Support, and Expand) allows you to setup a local team without spending on administrative overhead. You will have, at your disposal, the expertise of industry veterans who will setup and operate workplace prerequisites such as HR, IT & Communications, Admin & Travel.
This gives you the right opportunity to test the Indian market and discover which customer types go for your brand. It helps you get a foothold in this rich emerging market while adding little to your capital expense budget.
Deciding which Company Form is best for your Startup
In order to get access to an incubator you must have a certificate of incorporation of a company in India. Before you register your company and get this certificate you must decide which business forms would best support your industry and venture. 
Typical forms of business in India are: 
Sole Proprietorship

: This business form is most suited for small bootstrapped startups. However, you can also use this form if you're looking to scale up through an incubator in the future.

Private Limited Company

: Here, the company liabilities are divided among the private shareholders. If you have one or more partners, then this is a better way to obtain access to an incubator.

Public Limited Company

: Public Limited companies are allowed to offer shares for sale to the general public. You can make your company public at any stage once you've already gone through seed funding rounds.

Limited Liability Partnership

: An LLP has significantly reduced investment and compliance criteria. This enables the LLP to be more flexible in its access and usage of funding.

Joint Venture (JV) Company

: This alternative is best suited when your turnover is high and when separate businesses need to come together to pool resources.
Business Expansion Services
The other important function of Tecnova's R.I.S.E. program is that it enables the global business a platform to expand its footprint in India. You get access to a dedicated regulatory team that monitors compliance issues on an ongoing basis.
Tecnova also helps you find suitable partners in your expansion drive. With their assistance you can access key accounts and clients to influence the rest of the market.
Very often, the entrepreneur is interested in the ideation of the product rather than sales and general administration. The innovator is best left to utilize her energies towards product design and development. Tecnova's Incubation Support services have helped several new products gain India market entry without assuming the risk of running facilities on the ground.
Tecnova is one of India's most trusted business consulting services with an extensive experience of over three decades enabling 1500+ businesses gain India access. Its low-cost startup model guarantee minimum liabilities and easy exit in case success is not met as expected. You can get quick results with Tecnova's Plug and Play business model and even test new product markets before full-fledged launches.
Reach out to a Tecnova expert to find out more about incubations in India today.