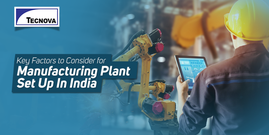 Entrepreneurship is rapidly evolving with time in India. Young prodigies are taking over the market with their revolutionary ideas while setting up futuristic business units in different parts of the country. As a result, manufacturing has now emerged as one of the most lucrative sectors backed by the government's policies. However, manufacturing plant set up in India is way trickier than you might think due to a variety of factors. In-depth due diligence needs to be performed before taking the plunge.
We have enlisted 5 major factors you should consider very carefully right here. Read below and mark your checklist:
Market Demand
If you are planning to set up a manufacturing unit in India, then your journey must kick start with the research about the demand of your product line—keeping in mind the changing needs of your target audience and future prospects.
Location
The second main factor on the list while planning a manufacturing plant set up in India is the location. A couple of things to keep in mind are the proximity to the market and the availability of water and electricity. Don't settle for anything until you have checked these on your list.
Budget
Choosing the location and setting up a manufacturing unit depends on your budget also. If you have the budget then go for the best you can find. Other expenses should also be on your mind when fixing up a capital.
Team
An efficient team is what you need to run your manufacturing unit and make profits in the future. So pay extra attention while hiring a team. Take into account their skills and experience before zeroing in on.
Laws, Rules, and Regulations
If you are planning for a manufacturing plant set up in India, then you must be aware of the country's laws as they differ from one country to another. Every industry has its own standard rules and regulations. Study them all deeply before taking the plunge.
The aforementioned factors for a manufacturing plant set up in India will come in handy. Contact India's most trusted Market Entry Consulting firm Tecnova today to make your India journey as successful as it can be.