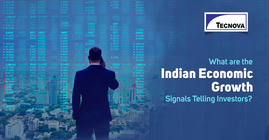 A recent report by the International Monetary Fund (IMF) has stated that India is the fastest growing major economy in the world—tying with China. And, as a matter of fact, the country's growth rate of 6.1% for the current fiscal year is better than that of even some developed countries such as the United States—which is at 2.1% growth rate this year. 
With a 5% growth in GDP during Q1 of 2019-2020, this financial year has been tremendously phenomenal for the Indian economy. In this article today, we bring you a detailed report of government measures and recent developments that have supported the country's economic growth to this extent. Here we go: 
Economic developments
The Indian economy has been witnessing investments coming from various directions owing to the improvement in the economic scenario. Some of the important developments that have boosted the Indian economy are the following: 
India's export sector has increased 4.32% year-on-year to reach a mark of USD 92.33 billion in April-May 2019. 
In the first half of 2019, India's Mergers and Acquisition (M&A) stood at USD 41.6 billion. 
Eight companies held IPOs in the first half of 2019—which raked in some USD 0.79 billion to the economy. 
India's Foreign Direct Investment (FDI) reached a mark of USD 436.47 billion between April 2000 and June 2019. Computer software and hardware, trading, telecommunications, and construction are a couple of sectors from which contribution came maximum. 
India's Index of Industrial Production (IIP) increased 2% year-on-year in June 2019. 
The World Bank has stated that private investments in India is expected to grow by 8.8 per cent in FY 2018-19 to overtake private consumption growth of 7.4 per cent, and, thereby drive the growth in India's gross domestic product (GDP) in FY 2018-19.
India has once again emerged as the third largest startup base in the world with over 4,750 technology startups. 
Government initiatives such as Make in India and Digital India have earned popularity not just in India but internationally also. These initiatives were introduced by the government to enhance the manufacturing sector of the Indian economy and boost development. The aim of the government is to take manufacturing sector of the country from current 17% to 25%. 
Some of the recent initiatives and developments undertaken by the government to improve the economy are as follows: 
The Indian government has cut the corporate tax rates for domestic and new manufacturing companies. The existing corporate tax rate has now come down to 22% from 30% for domestic companies. After all surcharges and cess, the effective corporate tax rate is now 25.17%. For new manufacturing companies the corporate tax rate is 15% as compared to previous 25%. The effective tax rate, however, is 17% inclusive of surcharges and cess.
The government has approved 100% Foreign Direct Investment (FDI) in coal mining and contract manufacturing. 
National Institute for Transforming India (NITI) Aayog released a strategic document 'Strategy for New India @75' to help India become a USD 4 trillion economy by 2023.
The government has approved a budget of USD 29.59 million for 2019 to implement Agriculture Export Policy. The policy will double the income of farmers by 2022. 
The Government of India will invest USD 32.9 billion to recapitalize public sector banks over the next two years and USD 109.31 billion for construction of new roads and highways over the next five years.
Public Sector Banks (PSBs) will receive a capital of USD 10.02 billion. It will help NFBCs raise foreign debt. 
Under Pradhan Mantri Gram Sadak Yojana (PMGSY-III), government plans to invest USD 7.19 billion to build roads to boost rural connectivity. 
All the aforementioned economic developments and government initiatives have helped India break through global economy. With an ever rising growth rate, several of the strongest industry and agriculture markets worldwide, and important exports and import, the nation is now considered as one of the fastest-growing economy in the world and will become one of the top three super economic powers in the next 10-15 years.