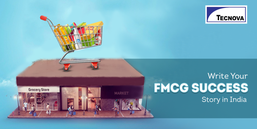 India's Fast-Moving Consumer Goods (FMCG) sector is growing exponentially at a Compound Annual Growth Rate (CAGR) of 27.86%. Government initiatives, evolving lifestyles, and growing awareness among consumers are three main pillars driving the growth in this sector. 
If you want to expand your business beyond borders, then investing in India's FMCG sector is the best bet for you right now. To help you understand exactly how we have compiled a list of reasons why you should not ignore India's FMCG sector in 2019. So here we go: 
The growing cutthroat competition
In the past few years, hundreds of companies have entered the FMCG arena resulting in a business war of sorts. They all have good products to offer and smart marketing strategies to attract consumers. In fact, a couple of new entrants have even defeated some of the oldest brands in terms of both revenue and trust. 
So to stay in the game, all FMCG companies are improving their products like never before and introducing new ones as well to leave no stone unturned to woo consumers. This is actually escalating the growth in this sector. 
The increasing demand
The demand in this sector is increasing faster than one can imagine. And rural India is contributing immensely with 60% of total growth coming from it only. The government initiatives to make goods available to consumers in rural areas is playing a major role in the growth of the FMCG sector. 
According to the growth potential of the sector, the demand of consumer products will never go down. Therefore, your investments in this sector will help you earn good returns in the long term. 
The advancement of technologies, startups, and innovation 
India is one of the most promising hubs for startups today. And the avenues it is providing for new innovations in the FMCG sector is awe-inspiring. These startups provide home delivery services that has made the sector more advanced than it was sometime back. Existing market gaps are being plugged by advanced technologies and innovations. 
The rise of startups in India has boosted healthy competition. Consumers are provided with quality products at low-cost that too with door-to-door delivery. 
Keeping in view of the aforementioned reasons, the FMCG success story will continue to achieve several more milestones in future. Partner with a seasoned India Entry Strategy firm today to invest wisely in India and expand your business.