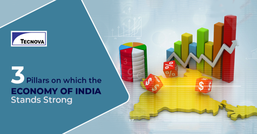 India is predicted to soon overtake its neighbor China as the largest emerging market in the world. Its positive demography and exponentially growing economy are two key factors that make it an ideal hub of unending opportunities for international investors.
This is an opportune time to invest in India and expand your business. Partner with an India market strategy firm today to guide you through your India business expansion journey.
We have compiled a list of 3 key reasons why you should invest in India to help you make an informed decision. Here we go:
1. Positive demographic 
India's positive demographics is one of the most important reasons why you should invest here. This country is blooming with highly educated and youthful workforce all ready to contribute to the economy. According to a report by Ministry of Statistics and Program Implementation (Government of India), India is expected to have 34.33% share of youth in total population by 2020. In fact, the country is younger than many other developing countries in the world. All of this is helping the country to make rapid economic growth and explore new avenues for bigger opportunities. 
2. Strong economy 
India is regarded as the fastest growing economy in the world. In fact, it is likely to remain one of the top three powers of the world over the next decade or so. Strong democracy and partnerships are two key factors behind its exponential growth.
According to a report by NASSCOM, India is the third largest startup country with more than 4,750 technology startups. Its labor force will reach a whopping 170 million mark by 2020. The strong economic scenario has attracted investments in various sectors from all corners of the world. The country's Mergers & Acquisition (M&A) activity has also improved with USD 41.6 billion in the first half of the year 2019.
So keeping in view of India's strong economic scenario, investing in the country at this time is like investing in gold. Collaborate with a market research company in India to reap the benefits of a growing economy.
3. Stable government, its initiatives, and developments 
India is one of the strongest democracies in the world today. The government of India has made some really great strides on improving the economy in the past few years. Some of the initiatives and developments undertaken by the government are:
The Government of India is going to increase public health expenditure to 2.5% of GDP by 2025. 
The Government of India has decided to invest INR 2.11 trillion (USD 32.9 billion) to recapitalize public sector banks over the next two years and INR 7 trillion (USD 109.31billion) for construction of new roads and highways over the next five years.
As per the Union Budget 2019-20, public sector banks (PSBs) will be provided with a capital infusion of INR 70,000 crores (USD 10.02 billion), allowing NBFCs to raise foreign debt.
India will become the largest consumer country in the world by 2025 with a threefold rise in its consumption. It will also become the second largest economy in terms of Purchasing Power Parity (PPP) by 2040.
With so much opportunities in store, you must start investing to expand your business with the help of a seasoned market research company in India today.