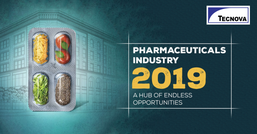 The year 2019 has witnessed some revolutionary developments in the pharmaceuticals industry, which, according to experts will turn India into a hub of endless opportunities for investors across the globe.
Major developments in pharmaceuticals industry that have taken place so far have been mentioned below:
New Clinical Trial Regime in Pharmaceuticals Industry
New Drugs and Clinical Trials Rules, 2019 has replaced the existing regulatory framework governing clinical trials in India under the Drugs and Cosmetics Rules, 1945.
Government to Update the National List of Essential Medicines 
The National List of Essential Medicines (NLEM) has been revised. The Health Ministry has reportedly conducted the first stakeholders meeting with the Standing National Committee on Medicine (SNCM) as well.
Price of Anti-Cancer Medicine Reduced 
The NPPA has reduced the prices of nine cancer drugs by way of an office memorandum (OM). According to the government, the price cut is expected to benefit 2.2 million cancer patients in India and result in annual savings of INR 8 billion.
Date for Labelling Norms to Come into Force 
Labelling norms, first notified on April 26, 2018, have come into force from April 01, 2019. Before the Enforcement Notification, compliance with the Original Notification was on voluntary basis. However, from the Enforcement Date, compliance with the Original Notification became mandatory.
With all these developments in 2019, the pharma industry is going to become a hot ground for endless opportunities for investors all over the globe. It is the right time for business to make a move and invest in Indian pharmaceuticals industry.