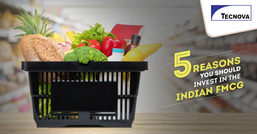 India's Fast Moving Consumer Goods (FMCG) sector is growing exponentially. Growing awareness, easier access, and changing lifestyles have all contributed immensely to make it the 4th largest sector of the economy. In fact, Industry reports suggest that the FMCG sector will continue to thrive at a Compound Annual Growth Rate (CAGR) of 27.86% to churn whopping USD 103.7 billion by 2020. 
We take a look at some other major factors to understand why this particular space is a boon for investors in the future. Here we go: 
Market Expansion 
The Indian retail market will hit USD 1.1 trillion marks by 2020 as 20-25% growth is likely to happen in modern trade. This will eventually boost the revenue of FMCG revenue from USD 52.75 billion in FY18 to USD 103.7 billion in 2020. 
Investment Boost 
As per the government's new initiative, 100% Foreign Direct Investment (FDI) in food processing and single-brand retail is allowed. On the other hand, multi-brand retails can now avail 51% FDI. This investment boost will improve the outreach of FMCG brands among retail markets—bolstering consumer spending power and product launches. 
Government Initiatives 
100% FDI approved by the government in food processing and single-brand retail. 
51% FDI approved for multi-brand retails. 
The Goods and Service Tax (GST) is beneficial for FMCG as several products of the sector fall under the 18% tax bracket now. They were under 23-24% tax bracket before GST came into existence. 
GST will change the logistics of the FMCG sector. 
Increase in Rural Consumption 
Rural consumption has also increased in the past few years owing to a boost in the income of people in the rural area and their higher aspiration levels. According to a report, the rural FMCG market will reach USD 220 billion by 2025. 
Popularity of Online Portals 
According to industry reports, more than 40% FMCG consumption will be online in India by 2020. The entire online FMCG industry will be of USD 45 billion in 2020. 
With these key developments taking place in the Indian FMCG industry, the road ahead looks quite promising for companies planning to invest in the sector. GST is improving the demand and economic growth in a very structured way, which will boost the revenue of companies within the sector.