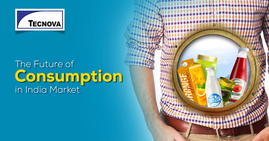 The International Monetary Fund (IMF) claims in its recent report that India is the fastest-growing major economy in the world with a projected growth rate of 6.1% for the current fiscal year. And the success saga of the country is not likely to slow down anytime soon as its future looks even brighter with many more milestones yet to come. The youngest country on the planet will have over 1 billion internet users by 2030—pushing the consumer spend to an all-time high—approximately 4 times growth. Studies suggest that the Indian consumer will be richer by 2030 than they are right now and more willing to spend too. 
In this article, we have enlisted all that you should know about the future of consumption in fast-growth consumer market of India. Here we go:
The rise of the middle class 
According to reports, India will become an economy driven by middle class by 2030. Over 80% households will be middle-income as compared to current 50%. Total contribution from middle-income group will be 75% in the consumer spend by 2030. 
Rise in income to drive growth across all consumption categories 
The rise of middle income and high-income group will drive the economic growth exponentially in the future. It is estimated that over 140 million households will move to the middle-class category while other 20 million households will move to high-income bracket by 2030. The growth in these two income categories will prompt them to spend around 2.5 times more on essential categories and 4 times more on services. This growth will also increase 15 to 20% purchase of durables. 
Digital consumptions will be more common
Digital connectedness will drive the consumption in the future all over the world. In fact, over 50% digitally well-versed consumers are already using digital channels to look for products and services. According to reports, more than 40% purchases will be digitally influenced by 2030 in India as compared to 22% right now. 
Generation Z to drive consumption
More than 77% Indians by 2030 will fall into the category of those who were born in the late 80s and onwards. This generation will obviously be more informed about the products and services they want to buy in 2030 than those born before 80s. These people are already willing to increase their spending over the course of next 10 years. However, the best part is that they are equally discerning about the quality of the products and services they buy in every category. So, understandably, all the businesses will have an increased number of richer customers. But since these customers are looking for the quality stuffs, businesses will have to up their tactics to stay on the top of the game. 
Innovation by Indian companies will drive consumption to new heights 
In the future, Indian companies will just not follow the suit of their western counterparts. They will go beyond replicating their business models and form something of their own to cater to the demands of their modern local consumers. The companies by 2030 will personalize business models according to the taste of their local consumers. This will again drive consumption phenomenally. 
In the future, India will be an arena of unstoppable innovation and economic growth. Indian consumers' rising income, consumption, tech-savviness, and awareness will generate loads of opportunities. The country will also evolve to be an exclusive platform for international players for growth and business expansion.