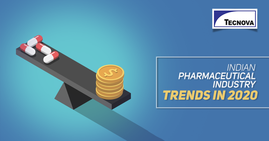 The Indian pharmaceutical industry has a variety of characteristics that help it stand out from the rest. It has branded generics dominating the retail market with a share of about 70-80%. Local players are ruling the roost thanks to early investments and formulation development capabilities. And, last but not the least, low price levels driven by a really strong domestic competition.
Enhanced medical infrastructure and growing income levels are two key factors that are driving the growth in the Indian pharmaceutical industry. Leading players are shifting focus to emerging opportunities now. The pace of innovation in business models is leaving even Usain Bolt behind. As a result, the expectations from this industry has increased manifold and aspirations have become bolder. So after a successful run in the past year, Tecnova—the most trusted business consultant in India—brings to you top 4 Indian pharmaceutical industry predictions for 2020 right here.
USD 55 BILLION MARKET IN 2020
The Indian pharmaceutical market is poised to hit a mark of whopping USD 55 billion in 2020 from USD 12.6 billion in 2009. Experts believe that the industry has got all the potential to reach even USD 70 billion in an aggressive growth scenario.
METRO AND TIER I MARKETS TO RULE THE ROOST
Metro and Tier I markets have grown at the rate of 14-15% during the last 5 years. This pace is likely to continue and make the segment a USD 33 billion market in 2020. Rural market share will reach 25%.
RETAIL SEGMENT TO REMAIN THE MAINSTAY
The Indian pharmaceutical market has about 80-85% share of the retail segment. Even in 2020, retail segment is likely to remain the mainstay of the industry. India is poised to experience an exponential growth in medical infrastructure throughout the next decade.
NON-TRADITIONAL OPPORTUNITIES TO PICK-UP THE PACE
With the rise in size and diversity, Indian pharmaceutical industry will come across the following opportunities that will develop to their full potential: 
Patented products
Consumer healthcare
Biologics
Vaccines
And public health
Indian pharmaceutical industry witnessed a phenomenal growth last year and it is poised to stay on the accelerated growth path throughout 2020 as well. Connect with the most trusted business consultant in India Tecnova today to successfully take your business to India's flourishing pharmaceutical industry.