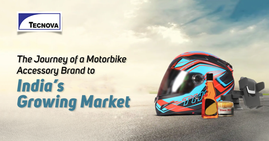 With an inspiring history dating back to 1973, this Premium Motorbike Accessory brand from Italy has truly come a very long way from just being a small factory in the heart of Italy's Brescia to becoming world's most trusted brand in motorbike accessories. Real passion, attention to detail and Italian designs are three foundational blocks that define the company's legacy. It has got several branches in different countries today and hire more than 500 employees all over the world. The company commands a loyal customer base globally due to their innovative, attractive and high quality products. However, there was still something that the company hadn't achieved yet.
The company had long been planning to expand its business to India's growing market. But due to the country's cultural diversity, amalgamation of languages and completely different financial systems, the company was somehow far from fulfilling the dream—until Tecnova and the company started off with their engagement in 2018.
Tecnova is a leading India Entry consulting firm with over 35 years of experience in the business. Its journey with the Italian brand took off with understanding the market first. Tecnova gave them access to India's market with its unique and comprehensive analysis of consumer preferences, existing sales channels, and changes in distribution and marketing practices.
On its journey ahead, the Italian brand partnered with regional distribution leaders post a number of interactions as Tecnova team's prime objective was to ensure its client's long-term sustainability and growth in the India market. Tecnova took care of every small detail to support their client and establish its foundations in the country from the very beginning. As a result, the Italian client in India could focus thoroughly on core aspects of its business such as revenue generation—while the rest of the things were taken care of by Tecnova team.
After meeting all the regulatory compliances for the India market, the Italian brand has now successfully set its roots in the country. It has started selling world's finest motorbike accessories to India's large customer base of motorbike owners and enthusiasts. The company's successful venture into the India market is a huge milestone for Tecnova. And what makes this milestone even better is that Tecnova achieved it in the time frame that it had set for itself.