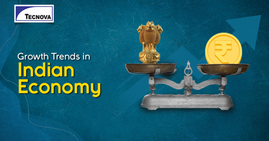 With 6.1% growth rate for fiscal year 2018-19, India is now the world's fastest growing economy in the world along with China. In fact, the country's economy is doing far better than other countries (including developed countries) as per World Economic Outlook (WEO) released by International Monetary Fund (IMF).
According to IMF's Chief Economist Gita Gopinath, the global economy is undergoing a huge slowdown and China's growth will also be affected by it in the coming year. However, Indian economy will continue to grow due to several factors such as multiple monetary policy easing, reduction in corporate income tax rates, recent measures to address corporate and environmental regulatory uncertainty, and government programs to support rural consumption.
The country's economy growth is actually attributed to the growth of its five major sectors: automobile, healthcare, industrial, FMCG, and pharmaceuticals. We take a look at a couple of growth trends and facts that have helped Indian economy shape for the new future. Here we go:
India's FMCG Sector
India FMCG is one of the fastest growing sectors in the world with a Compound Annual Growth Rate (CAGR) of 27.86%. It is poised to reach a USD 103.7 billion mark by 2020 owing to government initiatives, evolving lifestyles, and growing awareness among consumers. The demand in this sector is one major driving factor. Rural India's share in contribution to the economic growth is more than 60%.
India's Automobile Sector
Growing annually by 18%, India automobile sector is the 4th largest in the world today. However, it won't stay on that position for long as it is poised to become the 3rd largest automobile sector in the world in terms of volume by 2026.
India's Pharmaceuticals Sector
India is the largest vaccine producer in the world with world's 4th largest medical device market in Asia. It is in fact 3rd largest industry in the world by volume.
India's Healthcare Sector
India's healthcare industry is poised to reach USD 372 billion by 2022. And, by 2020, it will rank among the top 3 healthcare markets in terms of incremental growth. India's diagnostics market is expected to grow at a CAGR of 20.4% to reach USD 32 billion from USD 5 billion in 2012. That's not it. Indian government is planning to invest USD 200 billion on medical infrastructure by 2024.
India's Industrial Sector
By the year 2022, the electrical equipment industry, comprising generation and T&D equipment, is poised to reach a mark of USD 100 billion. The industrial sector is also going to hit USD 100 billion milestone by 2022. The T&D equipment segment will also reach USD a 75 billion mark.
The growth in these 5 major Indian sectors in the past few years has been very crucial for the country's overall economic growth. However, without remarkable government initiatives, this development wouldn't have been possible. Reduction in the corporate tax rates have bolstered the economy.