India to become a global hub of Electric Vehicle Manufacturing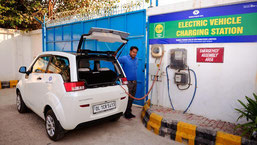 India has joined several progressive governments in providing a clear impetus to the development of the Electric Vehicles (EV) industry.
The government is aiming to make India a global hub of EV manufacturing and has introduced the second phase of Faster Adoption and Manufacturing of Hybrid and Electric Vehicles (FAME 2) scheme, in order to reduce pollution and contain oil imports. While no target has been set for automakers to mandatorily convert part of existing vehicle production to electric or other electrified offerings, the Indian government has mooted a policy to ban all internal combustion engine fired vehicles 
all 2- wheelers under 150cc by 2025 and all 3-wheelers by 2023. It's mission to drive the e-mobility revolution by 2030 should provide the much-needed impetus to the industry.
In the latest budget speech (5 July 2019), the Indian Finance Minister announced a slew of policy measures aimed at liberalising foreign participation and incentivising consumers towards faster adoption of EVs.
The government realises that the transformation towards clean and green mobility is likely to be catalysed by encouraging adoption of state-of-art global technology and infrastructure in EV manufacturing and vehicle charging stations. The proposed policy also aims to incentivise investment in battery cell manufacturing and assembly capacity.
The government is proposing a new scheme which will invite global companies to invest in manufacturing plants for sunrise and advanced technology areas like solar photo voltaic cells, lithium storage batteries and solar electric charging infrastructure. Such investments in manufacturing plants will entail income-tax exemptions.
Although the current FDI regulations permit 100% FDI in Single Brand Retailing under the automatic route, foreign players interest has remained tepid due to the onerous stipulation on 30% local sourcing. In a welcome move, the Finance Minister announced that the government will revisit and ease the local sourcing norms.
A new section is being introduced to provide deduction of upto INR 150,000 on loan interest in relation to purchase of EVs. The incentive will be available for new vehicle loans sanctioned between 1 April 2019 and 31 March 2023.
The rate of Good and Services T the sale of EVs.
As a further boost for Indian manufacturers of EV, basic customs duty will be completely exempted on certain parts such as e-drive assembly, on board charger, e-compressor and charging gun. However, the rate of IGST as part of customs duty will remain unchanged. It would be critical for the GST rates on these products to eventually be aligned to 5%.
The push through FAME 2 is a first step and there are several other areas of the initiative which the government needs to address:
Determination of whether electricity consumption at charging stations would be subject to GST or electricity duty;

Regulatory control over charging technology standards whether these would be proprietary or industry standards;

Treatment of self-driving technologies under the provisions the Motor Vehicles Act;

Tax and regulatory treatment and financing models to keep cost of ownership competitive in comparison to traditional vehicles; and

Evolution of an appropriate regulatory regime to support disposal of batteries.
on advanced battery and registered EVs is proposed to be reduced from 12% to 5% to promote
India to become a global hub of Electric Vehicle Manufacturing
Published by Khaitan & Co - July 2019
India Business Update - July 2019.pdf
Adobe Acrobat Document
121.7 KB