The India Battery Swapping Model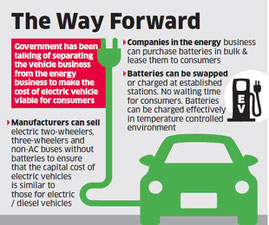 What is Unique about this plan? At the heart of the plan's success will be the battery leasing strategy for certain group of vehicles. The plan includes the sale of vehicles without batteries to improve affordability. Also it reduces the need for subsidies on car price substantially. There will be tax breaks for manufacturers to incentivize "Make in India" for vehicles & drive trains though. As stated by the Indian Minister for Power & renewable Energy, there will also be limited Government hand holding for vehicle manufacturers for 2-3 years.
A big opportunity for EV makers & suppliers! First Phase will include two- and three-wheelers and city busses.