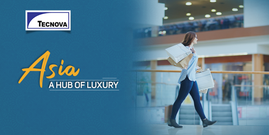 According to a report released by Bain & Company's latest luxury edition in collaboration with Fondazione Altagamma, Asia has once again emerged as one of the largest luxury markets globally. The continent is helping the entire industry grow at constant 4% exchange rate in 2019 due to which it has achieved a feat of whopping €1.3 trillion in luxury segment.
Lead author of the 18th edition Claudia D'Arpizio also stated during a media interaction that the growth in the global luxury market is "mainly driven by Asian buyers".
Back home, the luxury products market in India is also making some winning strides with an all-time high growth rate owing to HENRY's (high earning not rich yet individuals) spending on luxury goods. These strides are likely to continue with increasing growth and competition.
Assocham has pointed out economic growth leading to higher disposable income to be the main factor fueling the growth of luxury goods in India. The chamber has attributed the strong performance of luxury goods to the growing retail presence of luxury players and numbers of brands entering the country.
Studies suggest that the population of luxury customers will expand to 450 million from 390 million in 2019 buoyed by the growing middle-class in Asia.